Posted on
By The Wild Olive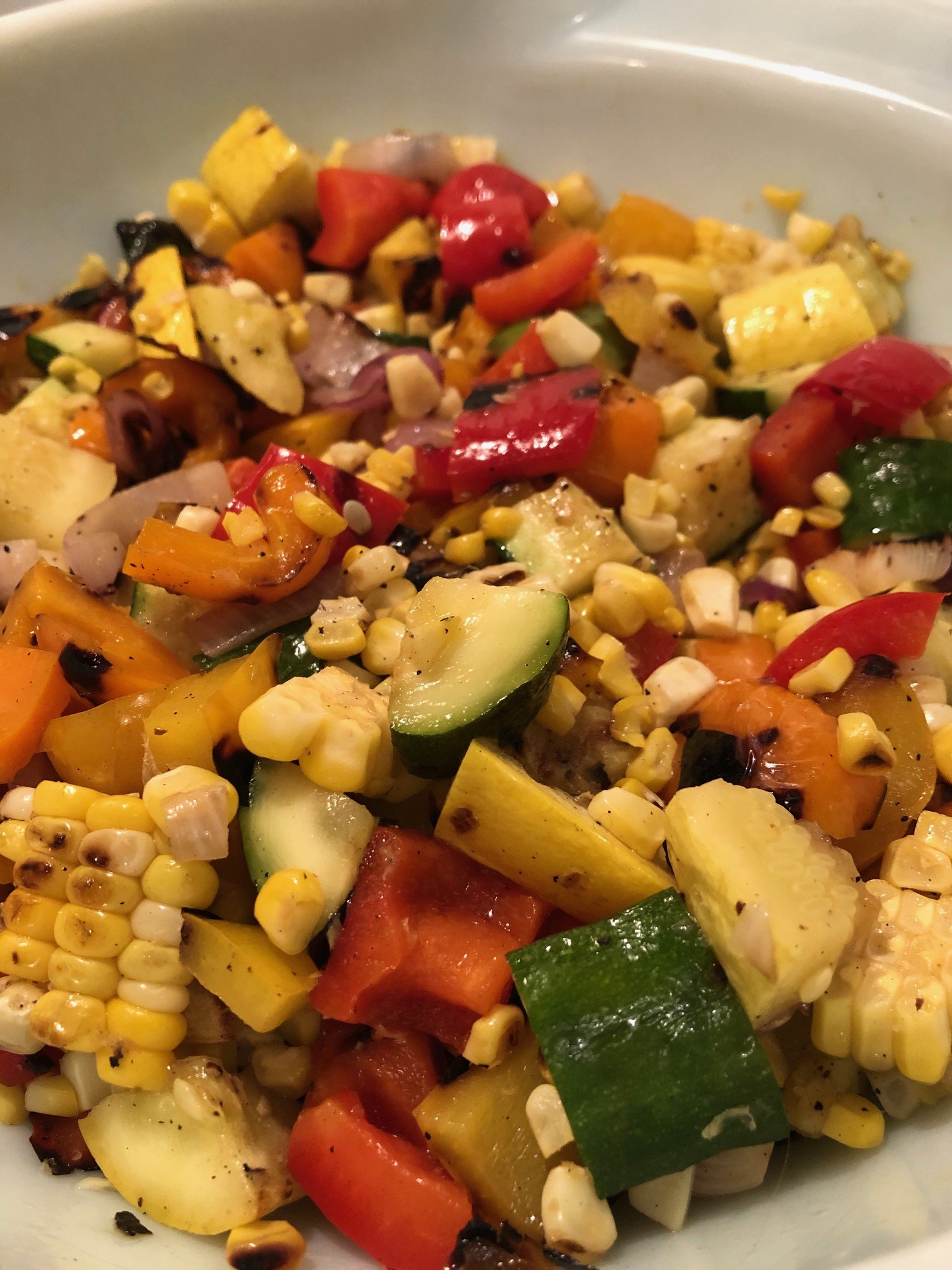 Try this Grilled Summer Vegetable Salad with Lemon Ginger Balsamic Vinaigrette!

Simple, healthy, delicious and perfect for 4th of July cookouts!

Makes a great side dish or main dish. This has become one of our favorites this summer! We've been serving it with grilled shrimp or grilled salmon.

These were our picks for grilling for this salad:
-Sweet Corn
-Zucchini
-Yellow Squash
-Red Onion
-Orange Bell Peppers
-Red Bell Peppers

Once you've chosen your veggies, wash and cut them into grill sized portions. Drizzle our Meyer Lemon Extra Virgin Olive Oil and sprinkle with s.a.l.t. sisters' Pink Himalayan Mineral Salt and fresh cracked pepper. Grill the veggies until desired tenderness. We like to get a little char on the skins of the bell peppers and some good grill marks on the corn and zucchini. Remove from the grill and chop the veggies into bite sized pieces. Remove the corn from the cob. Combine all veggies in a large bowl and toss with the Lemon Ginger Balsamic Vinaigrette. If desired, add crumbled feta or blue cheese.

Lemon Ginger Balsamic Vinaigrette
1/4 cup fresh squeezed lemon juice
1 tsp dijon mustard
1/2 tsp honey
1/3 cup Meyer Lemon Extra Virgin Olive Oil
1/4 cup Ginger White Balsamic Vinegar (Lemon White Balsamic Vinegar would also work well in this)
Salt and pepper to taste

Combine ingredients in a mixing cup and whisk together. Adjust amounts to suit your palette. This is another great recipe to substitute your favorite flavor of Wild Olive olive oil or balsamic vinegar in place of the Meyer Lemon and Ginger White.